Best Carpet And Rug Cleaning Singapore Services that Breathe Life Into Your Dull Carpet And Rug
---
Your carpet and rug aren't just ordinary floor coverings. They are our guardians, that provide a secure net as you walk, run, and even jump around, ensuring you and your loved ones are protected from unexpected slips and falls. However, with every steps taken, they bear the weight of accumulating dirt and grime, harboring up to 200,000 bacteria per square inch.
This buildup not only robs them of their natural beauty but also transforms them into potential health hazards and a perfect breeding ground for mold and fungus. It's not just vulnerable individuals or those with compromised immune systems who are at risk, even normal healthy individuals can be affected. It's time to unleash the power of deep cleaning and breathe new life into your carpets and rugs.
Imagine stepping inside your house as you watch your carpets and rugs radiate cleanliness and exude a fresh, revitalizing scent. Our professional cleaners are equipped with advanced steam cleaning equipment and employ leading industry techniques while diving deep into the fibers of your carpets and rugs, carefully eliminating all dirt, grime, dust mites, allergens, and stubborn stains. Let us turn back time and revitalize your carpets and rugs to their former glory, allowing their true beauty to emerge once more.
At Clean Lab, our commitment to customer service and technical excellence is at the core of our services. We go the extra mile to assess your unique situation, ensuring the best possible results and we clean all types of carpet, and rugs including persian.
Contact us to discover more about our carpet and rug cleaning services rates.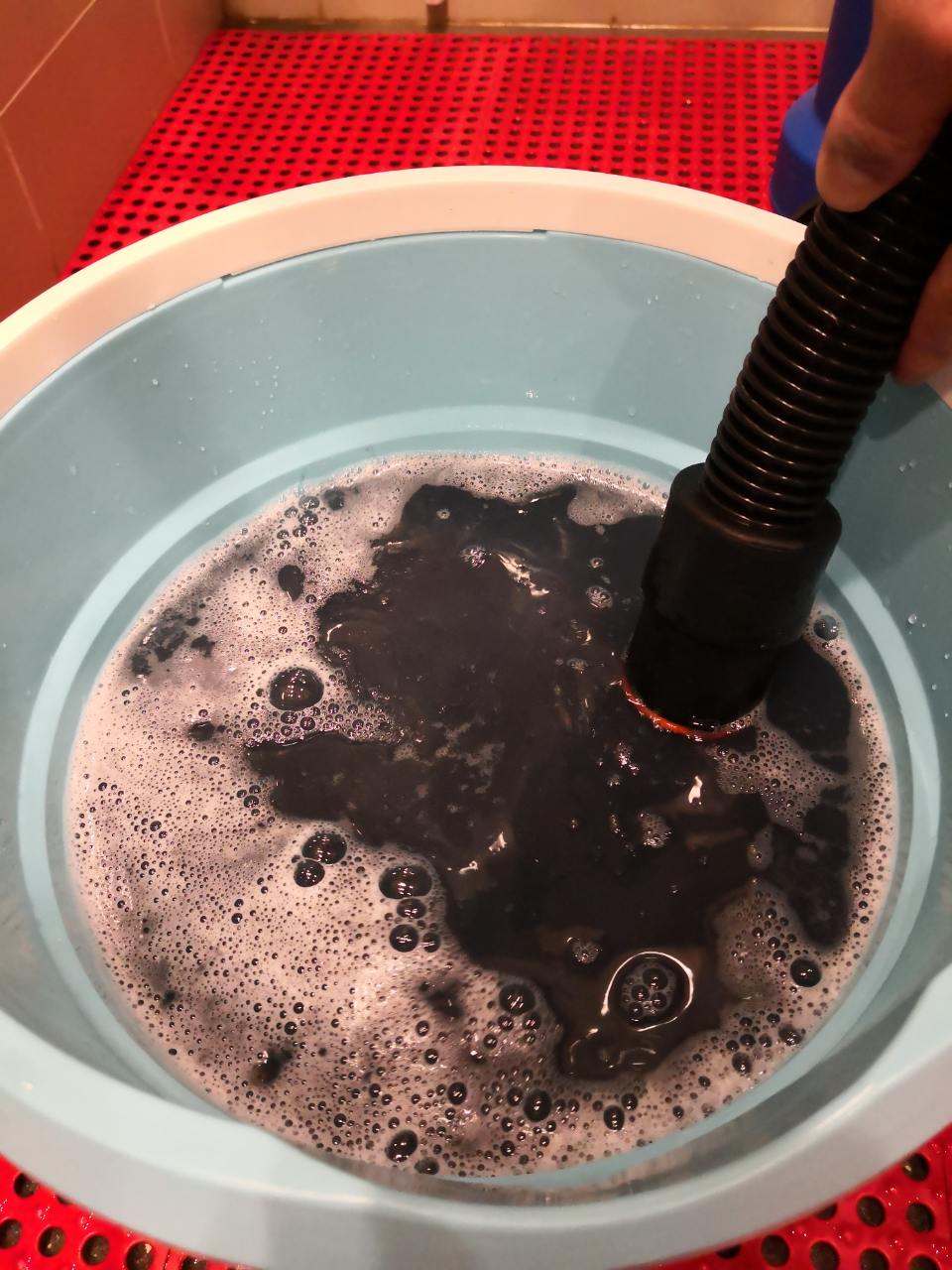 WHAT'S LURKING IN YOUR CARPET AND RUG?
Dust mites and pest
Dust, soil and dirt
Bacteria, germs and viruses
Mould and Fungi spores
Allergens and Bio-contaminants
Dead Skin Flakes (food source for dust mites)
Food Residue (food source for pest)
Bad odours
Stubborn stains
HOW OFTEN SHOULD YOU ENGAGE PROFESSIONAL CARPET AND RUG CLEANING SERVICES?
---
The frequency of deep carpet and rug cleaning can vary per household – depending on factors such as foot traffic and other environmental constituents. When you engage Clean Lab Singapore's carpet and rug cleaning services, our dedicated consultants will first conduct a comprehensive assessment of your carpets and rugs condition, before tailoring a maintenance programme that helps to strengthen your property's defence system. As a general rule of thumb, here are the recommended professional cleaning frequencies for carpet and rugs:
| Environment | Professional Carpet And Rug Cleaning Frequency for Houses |
| --- | --- |
| Low Traffic | Once a Year |
| Medium Traffic | Every Half-Yearly |
| High Traffic | Every Quarterly |
Clean Lab Singapore offers professional carpet and rug cleaning services that can be done both on-site and off-site.
Chemicals can be a massive concern – but not at Clean Lab. Whichever your preference, we make sure to only employ chemicals that are in accordance with the International Carpet & Rug Institute's guidelines. On top of that, they are also PH neutral, and wool safe-certified – enabling them to be kid- and pet-friendly.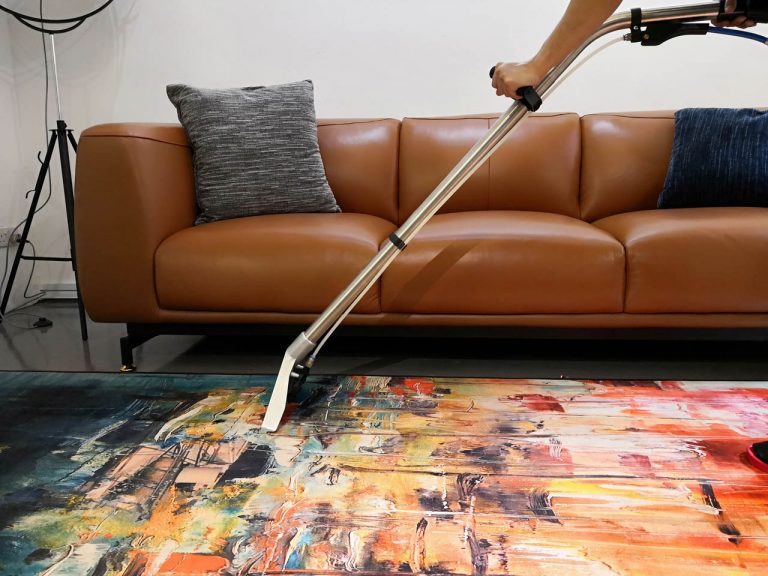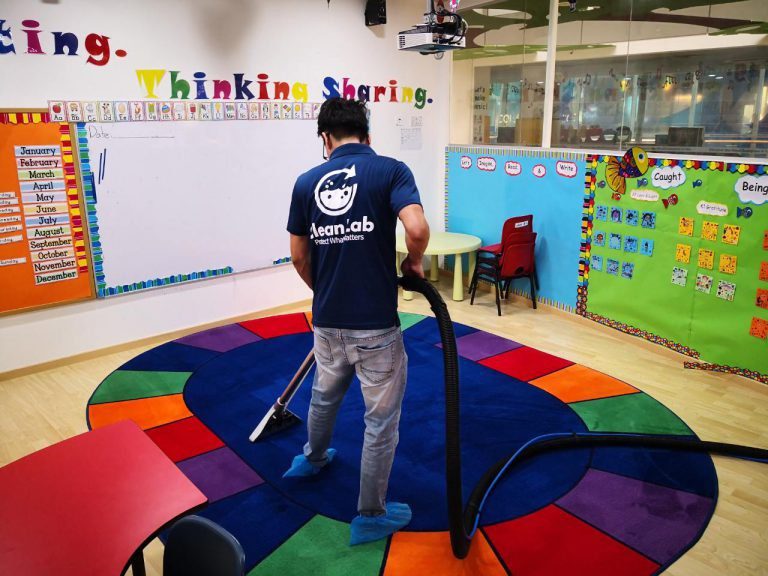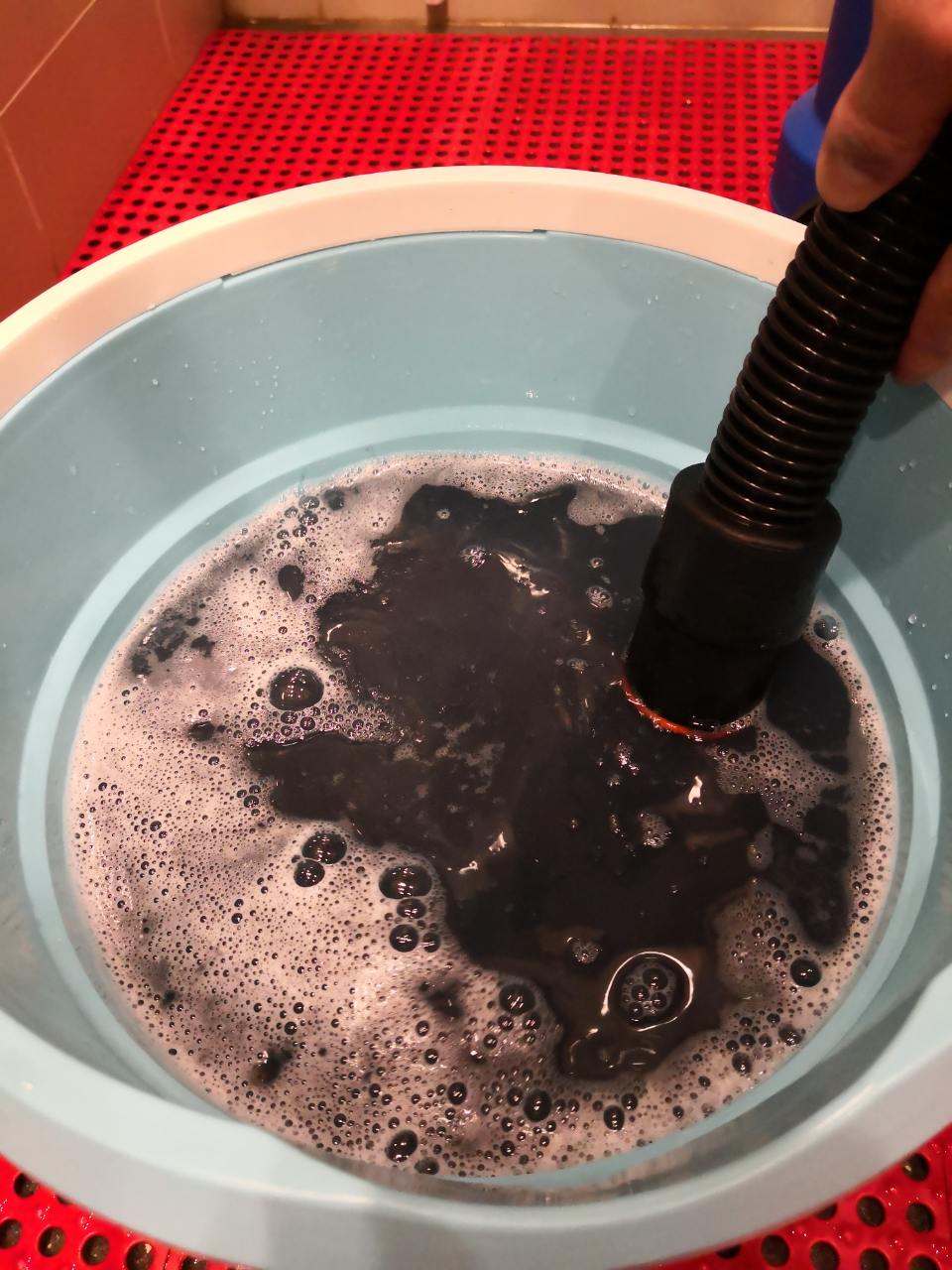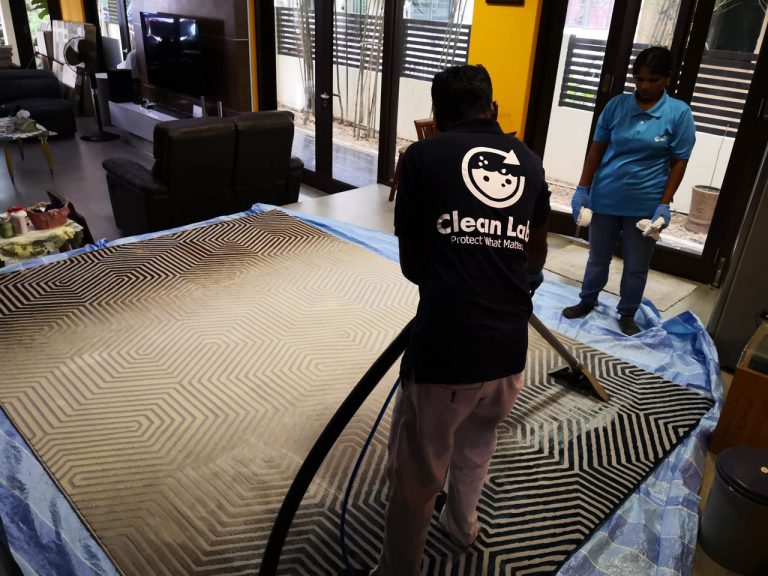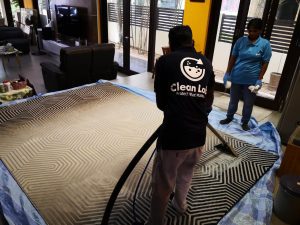 THE DIFFERENCE BETWEEN ON-SITE AND OFF-SITE RUG CLEANING SERVICES
---
Should you opt for our on-site rug cleaning services, our professionals will execute the treatment at your premises. This process includes dry extraction, stain treatment, deep cleaning and disinfection, deep extraction as well as the application of chemical-free and non-toxic Bioshield treatment to deliver ongoing protection.
Compared to its counterpart, our off-site rug cleaning service is ideal for shaggy or long pile rugs or rugs in poorer condition. Think – ones with pet urine, odour, mould, stubborn stains or pest infestation. As not all rugs can be cleaned using the wet or steam technique, it has to first go through a comprehensive assessment and inspection by our team of experts.
The off-site rug cleaning process involves dry extraction, shampooing, stain treatment, deep cleaning, deep extraction, moisture extraction, turbo drying and finally, the application of Bioshield treatment. For homeowners who are looking to give their rug a professional deep clean, off-site rug cleaning is highly recommended.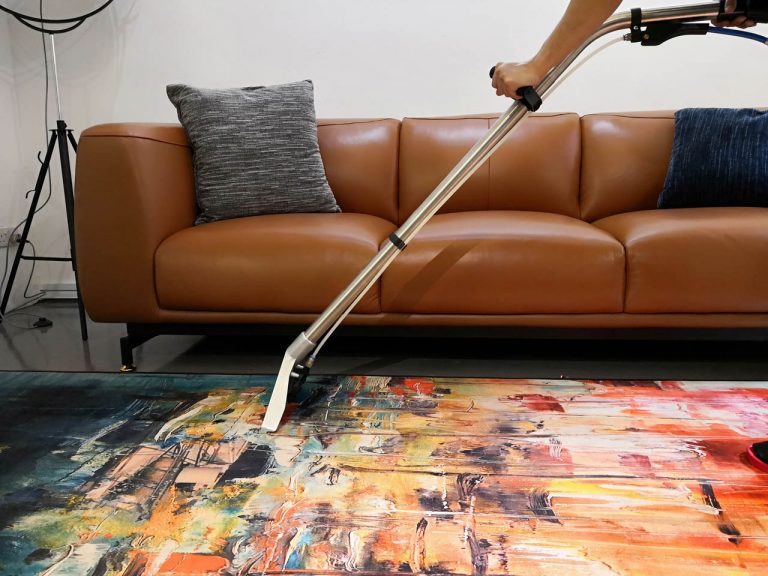 KEEP YOUR RUG LOOKING ITS BEST WITH OUR STAIN PROTECTION TREATMENT
---
Nobody loves to see their investments turn into a muggy, unpleasant eyesore. Plus, the thought of repair and stain removal costs alone would send one's wallet trembling in fear. Despite constant vigilance and your best efforts in preventing against spills, stains and spots, it's undeniable that accidents do happen. So what can you do? Preventive measures must therefore be taken!
With Clean Lab's tested and proven stain protection treatment, an invisible, non-toxic barrier that repels against spills, stains, soiling and fading is then formed on your rug. This fortifies its ability to resist stain, and in turn, keep your rugs looking flawless and stain-free – for long.
DEEP RUG CLEANING SERVICES AT AFFORDABLE RATES
---
At Clean Lab, we formulate specialised cleaning solutions, catering to a wide variety of rugs which include:
Oriental rugs
Persian Rugs
Chinese Rugs
Afghan Rugs
Turkish Rugs
Antique Rugs Silk Rugs
Synthetic Rugs
Cotton Rugs
Wool Rugs
Polyester Rugs
Nylon Rugs
Olefin Rugs
Handmade Rugs
and many more
The best way to clean rugs is to bring them back to our facility for a professional deep clean. Our Rug Specialist will pick up the rugs from you, and the cleaning and sanitising will be carried out off-site, at our facility. Proper drying will also be carried out before delivering it back to you. We do provide the option to clean your rugs onsite as well.
PICK-UP
►
CLEAN
►
DELIVER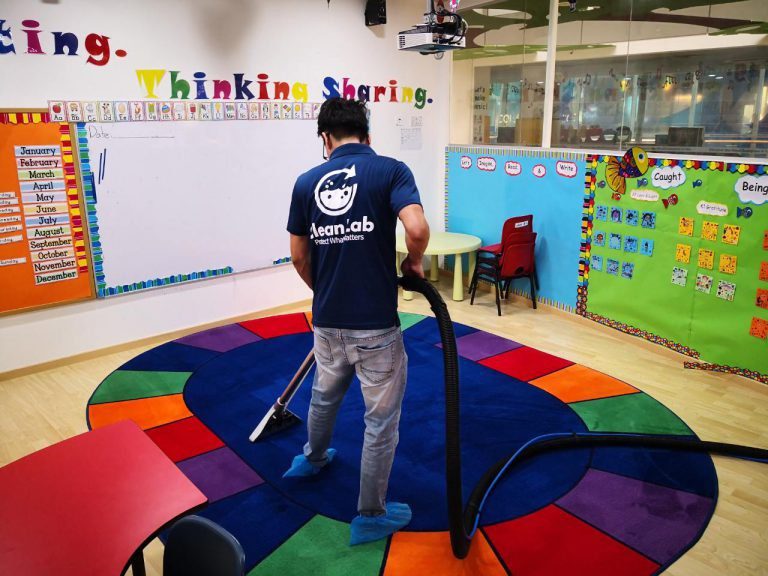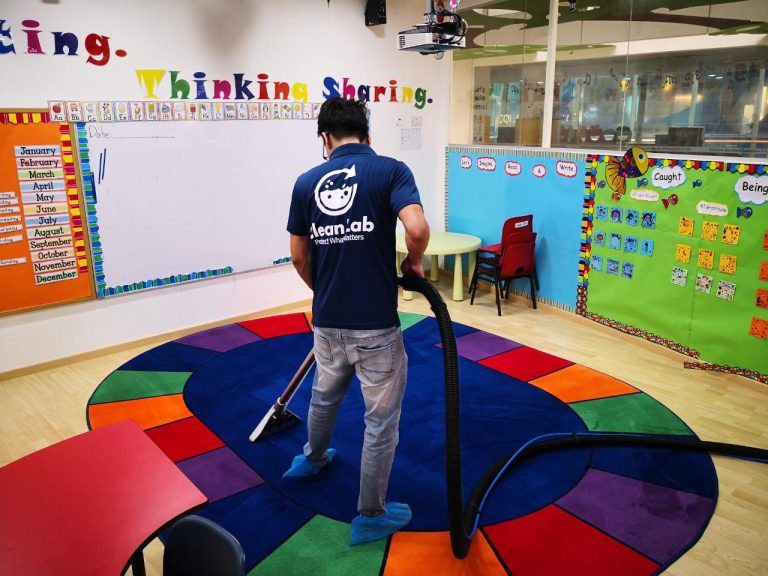 BENEFITS OF OUR RUG CLEANING SERVICES
---
Prolong the lifespan of your rug
Eliminate accumulated soil
Remove harmful microorganisms entirely
Eliminate dust mites
Remove excrements and residue components
Enhance the quality of indoor air
Free you and your loved ones from allergies and infections
Create a more welcoming environment for your guests
Provide an invisible barrier against spills and accidents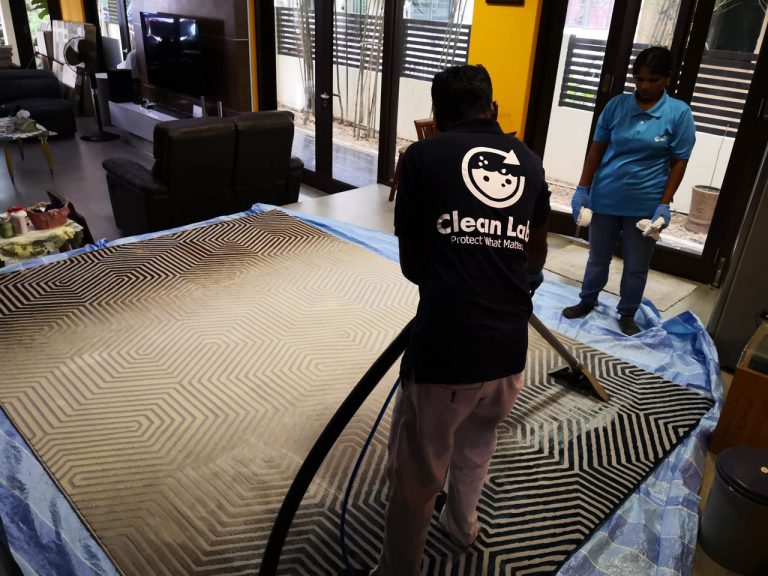 Speak to our consultants! They'd love to hear your concerns and requirements.
Our consultant will select a suitable methodology catering to your specific requirements. (dry cleaning / interim cleaning / restorative cleaning)
Should you have any queries regarding our rug cleaning services in Singapore, please do not hesitate to reach out to us. We'll be more than happy to assist you!
Frequently Asked Questions – Carpet And Rug Cleaning Singapore