Office Cleaning Services Singapore Company That Uses the Art of Science
---
Office Cleaning Services Singapore, Clean Lab was instituted with the sole aim of ensuring that commercial offices, homes, and other workspaces are kept in pristine condition. Now, our definition of clean isn't just a well-vacuumed floor or emptied wastebaskets. Cleaning transcends shiny surfaces and nice-smelling aroma. Our office cleaning services also encompass the killing and evacuation of germs in your office.
A closed office quarter is one of the most common media of passing infections and diseases. Why? Because of the plethora of equipment and devices which are handled. For example, the keyboards, switches, doorknobs, tabletops, and even remote controls. All these engender germs, causing your employees to fall ill, thereby reducing productivity.
If you are wondering – how can you then eliminate germs in those hotspots and create a healthier working environment? An integrated and professional office cleaning program at Clean Lab will perfectly address this issue.
Setting Standards With Professional Commercial Cleaning Services Singapore
---
Every office requires proper commercial cleaning services and hygiene solutions. When you engage in our office cleaning services, our Consultants and R&D team will first comprehend what your office requires before formulating a professional office cleaning program that helps to protect the health of you, your employees, and your workplace sanitation.
At Clean Lab Singapore, you can also find integrated part-time office cleaning services like floor cleaning services, carpet cleaning and more for smaller offices that do not require a daily office cleaning . As the #1 Office Cleaning Services Singapore, Clean Lab Singapore was instituted with the sole aim of ensuring that offices, homes, and other workspaces are kept in pristine condition.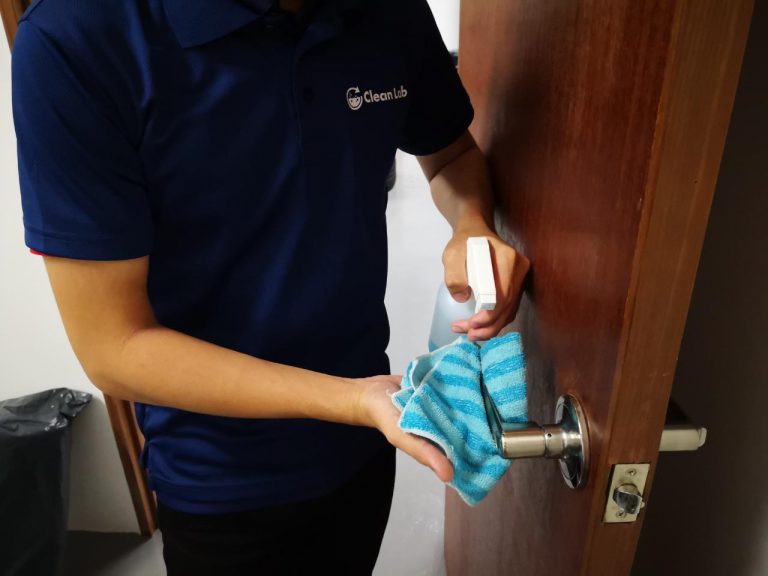 What Clean Lab's Office Cleaning Services Singapore Cover?
---
Commercial Cleaning
Kill germs and viruses
Improve indoor air quality
Avoid cross-contamination during cleaning
What Set Our Office Commercial Cleaning Services Singapore Apart from Other Companies?
---
At Clean Lab, we provide beyond office and commercial cleaning services. Our company cares about you. Hence, our Consultant will first understand your concerns or requirement.
We are listed in multiple "best" or "top 10" websites like finestservices as one of the best commercial office cleaning services singapore.
Base on your requirements and concerns, a customised professional office cleaning program will then be formulated by our team at Clean Lab Singapore.
A detailed cleaning checklist will also be formulated to ensure our cleaning duties are in line with the unique needs or preferences of our client.
Premium cleaning resources will be deployed to help improve indoor air quality and preventing cross-contamination each time you engage in office cleaning services singapore – Clean Lab.
Have a budget constraint? If you are looking for cheap office cleaning services singapore, Clean Lab Singapore's customisable office cleaning program surely enables you to maximise your budget.
To find out more about our office cleaning services and rates, get in touch with Clean Lab Singapore's experts today!
Frequently Asked Questions About Our Commercial Office Cleaning Services