We provide high-end treatments unavailable to the general public
---
Sometimes, you might be made to believe that your office or home is free and safe because you have used disinfectants you recently purchased. Unfortunately, this is not necessarily the case. In fact, if you employ disinfection treatment which is effete, this strengthens the bacteria, causing them to wreak further havoc.
Dubbed as one of the leading disinfection companies in Singapore, you can rely on our disinfection services to thoroughly sanitise your premises. Throughout the years, we've invested heavily in contemporary technology to provide our customers with the highest standard of services.
It's a revolutionary disinfecting process that disinfects most of the enveloped and nonenveloped bacteria and viruses such as E. coli, salmonella and spores. This chemical is approved by the EPA, and it is safe for your young children and pets. Whether you are looking for house disinfection services, commercial properties disinfection services or restaurants disinfection services and beyond, Clean Lab Singapore has got you covered!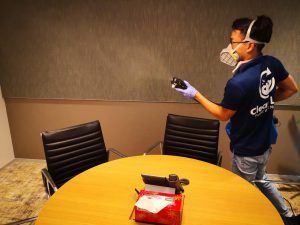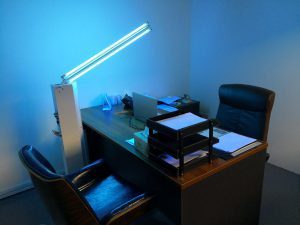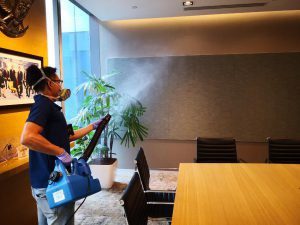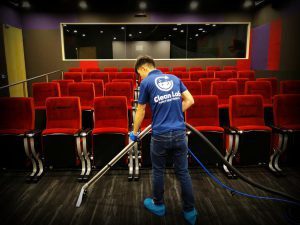 KEY BENEFITS OF OUR DISINFECTION AND SANITISATION SERVICES IN SINGAPORE
---
Completely eliminates 99.9999% of germs, bacteria and viruses – instantly
Reduce the chances of sickness
You're free of irritations, allergies and infections
Removes mould spores and airborne viruses
Leaves no residue
Range of specialised disinfection services to help prevent cross-contamination
Wide range selection of the latest disinfection machines and professional-grade chemicals
Access to professional disinfection services in Singapore
Trained and experienced disinfection and decontamination specialist team
No cross-deployment of our cleaning, disinfection and decontamination specialists
Full body PPE and biohazard waste disposal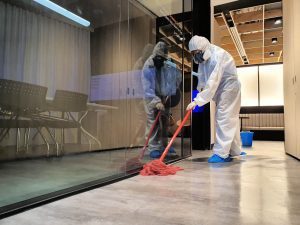 WE PROTECT YOU AGAINST THESE INVISIBLE ENEMIES
At Clean Lab Singapore, we offer professional treatments that run the gamut from basic sanitising services to disinfection services and even decontamination. These services help you fight against a broad spectrum of germs and viruses, which includes:
COVID-19
Hand, foot mouth disease (HFMD)
H1N1
MERS
Influenza
SARS
E-coli
Salmonella
Chingys
Bloodborne pathogen
HAIs
MRSA
Norovirus, Hepatitis B,
Hepatitis C
Ebola
Tuberculosis TB
Staphylococcus aureus
Funicidial
Measles
And many more.
OUR DISINFECTION METHODOLOGY
---
Clean Lab's disinfection treatment system releases electrostatically-charged particles which float down, wrap around untreated objects and hard-to-reach spaces (like computer keyboards and doorknobs) ensuring double protection. It flows through all the hard to reach areas of your home that regular cleaning sessions miss.
As the adage goes, "prevention is better than cure". At Clean Lab, we offer preventive disinfection programmes to provide you with the best (and real) defence against germs and viruses. Going beyond prevention, you can also count on Clean Lab for restorative, reactive and viral outbreaks decontamination measures – all through our anti-microbial treatment.
During our anti-microbial treatment, a coating layer of positively charged molecular pins is released and subsequently bonded to the treated surface. This attracts and eventually kills negatively charged pathogens by rupturing the pathogen cells. This pet- and family-friendly treatment has been proven effective on all surfaces and has the ability to eradicate pathogens and viruses 24/7. Best of all, the protective pins coated on the surface remain intact and effective for up to 30 days – or even 90 days, depending on environmental and cleaning factors.
OUR DISINFECTION SERVICES IN SINGAPORE CAN BE APPLIED TO:
---
Commercial Properties
Apartments
Workout Facilities
Offices
Food Manufacturing
Laboratory
Hotel Rooms
Restaurants and Kitchen
Healthcare Facilities
Childcare Centre
WORKPLACE AND HOME HEALTH CHECK CONSULTATION
---
Just like how people used to dwell in caves during the dawn of mankind, we too, spend most of our time indoors. While it may feel cosy seeking comfort in our homes and offices, a growing body of scientific evidence has indicated that air within homes and offices are becoming a bigger concern than ever before. Poor indoor air quality can trigger allergy symptoms and long-term respiratory illnesses, including asthma. It should never be taken lightly.
Whatever may be the cause of indoor air pollution, making an effort to identify and eliminate them can help you, and your loved ones breathe easier.
Let our experts assess the cleanliness level of your home, understand your concerns and guide you through the rocky roads. Based on these, our consultants will recommend a range of testing methods, including:
Inspection / consultation
Surface hygiene testing
Environmental microbial testing
Air testing
Our workplace and home health check consultation are exceptionally suitable for:
People who are suffering from health conditions such as skin allergies, sinus and rashes
Premises with pest infestation
Premises with mould issue
Premises with odour issue
Homes with young kids and old folks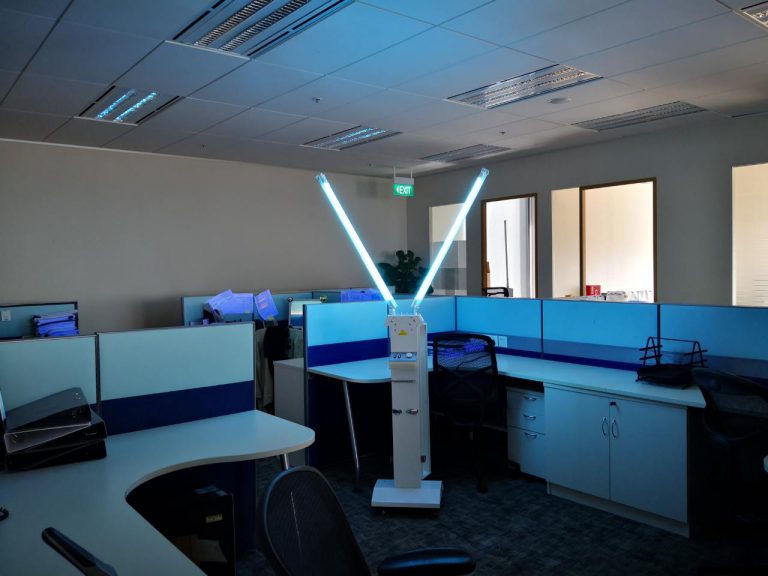 Our Consultant will first understand your concerns or requirement
Selection of different methodology for your specific requirements (We employ disinfection machines and chemicals which are suitable to use in offices, residential, IT industry, food processing and establishments, childcare centres, hospitals, hotel and lab.)
Our Specialist will provide recommendations after the cleaning and incorporate an infection prevention program into your day-to-day cleaning routine.
Our treatments are non-toxic, non-corrosive and provide a wide coverage area. They are suitable for offices with lots of IT electronics/ Lab equipment.
To know more about our disinfection services, contact our experts today!